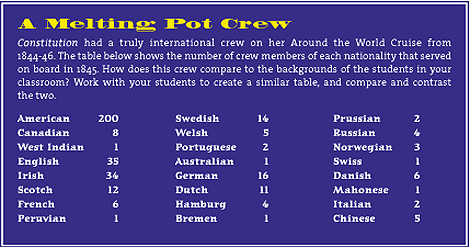 All Around the World:
Constitution Circumnavigates the Globe
Norfolk, Virginia—2/16/1843 to 4/16/1844
New York City, New York—4/27 to 5/29/1844
Fayal, Azores—6/16 to 6/20/1844
Funchal, Madeira—6/23 to 6/29/1844
Santa Cruz, Teneriffe (Canary Islands)—7/1 to 7/6/1844
Rio de Janeiro, Brazil—8/2 to 9/8/1844
St. Augustine's Bay, Madagascar—10/15 to 10/20/1844
Mozambique, Portuguese East Africa—10/25 to 10/28/1844
Majunga Bay, Madagascar—11/1 to 11/5/1844
Nos Bey, Madagascar—11/7 to 11/12/1844
Metany, Zanzibar—11/18 to 11/26/1844
Latham's Island (off Zanzibar)—11/28/1844
Quallah Battoo, Sumatra—1/3 to 1/6/1845
Singapore—2/2 to 3/10/1845
Sambas River, Borneo—3/18 to 3/22/1845
Brunei, Island of Borneo—4/6 to 4/10/1845
Turon (Danang), Cochin China (Vietnam)—5/10 to 5/26/1845
Macao, China—6/5 to 6/18/1845
Blenheim Reach (Whampoa), China—6/19 to 7/31/1845
Macao, China—8/27 to 9/1/1845
Manila, The Philippines—9/13 to 9/20/1845
Batan Island—9/26 to 9/27/1845
Honolulu, Sandwich Islands (Hawaii)—11/16 to 12/2/1845
Monterey Bay, California—12/31/1845
Mazatlan, Mexico—1/13/1846 to 4/22/1846
Valparaiso, Chile—5/13 to 5/20/1846
Rio de Janeiro, Brazil—7/28 to 8/5/1846
Boston, Massachusetts—9/27/1846

25 Foreign Ports visited!


Save It!
historic preservation through political action
Does your area have an historic building or site that is threatened with destruction just as Constitution was? Divide the class into teams to research its history, investigate town zoning ordinances and town and state historic preservation laws, identify the key players in the site's destiny, write persuasive letters to the editor, make a presentation before the town council and cover other aspects of the effort. Be sure the class has a vision for what they want to accomplish and a strategy for doing it.

City, State Date

1931
Boston, MA July 1-2
Portsmouth, NH July 3-12
Bar Harbor, ME July 13
Bath, ME July 14-17
Portland, ME July 17-23
Gloucester, MA July 23-29
Marblehead, MA July 29-30
New Bedford, MA July 31-Aug 6
Providence, RI Aug 6-10
Newport, RI Aug 10-13
New London, CT Aug 13-20
Fort Pond Bay, Aug 20-25
Long Island, NY
Oyster Bay, Aug 25-28
Long Island, NY
New York City Aug 29-Sept 14
Wilmington, DE Sept 16-18
Philadelphia, PA Sept 18-Oct 1
Newport News, VA Oct 2-9
Norfolk, VA Oct 9-16
Yorktown, VA Oct 16-23
Baltimore, MD Oct 24-Nov 2
Annapolis, MD Nov 2-5
Washington, D.C. Nov 7-18
Wilmington, NC Nov 21-30
Charleston, SC Dec 1-6
Savannah, GA Dec 7-11
Brunswick, GA Dec 12-15
Jacksonville, FL Dec 16-21
Miami, FL Dec 23-30
Key West, FL Dec 31-Jan 4, 1932

1932
Pensacola, FL Jan 6-11
Mobile, AL Jan 11-18
Baton Rouge, LA Jan 20-27
City, State Date
New Orleans, LA Jan 27-Feb 12
Corpus Christi, TX Feb 14-23
Galveston, TX Feb 24-25
(no visitors)
Houston, TX Feb 25-March 1
Galveston, TX March 1-7
Beaumont, TX March 8-12
Port Arthur, TX March 12-17
Orange, TX March 17-19
Lake Charles, LA March 19-22
Gulfport, MS March 25-29
Port St. Joe, FL March 30-April 1
Tampa, FL April 3-7
St. Petersburg, FL April 7-9
Quantico, VA April 15-16
(no visitors)
Washington, D.C. April 16-May 11
Alexandria, VA May 11-12
Washington, D.C. May 12-Dec 8
Guantanamo Bay, Cuba Dec 14-19
Cristobal, Panama Dec 22-27 Canal Zone
Balboa, Panama Dec 27-Jan 7, 1933 Canal Zone

1933
San Diego, CA Jan 21-Feb 16
San Pedro, CA Feb 17-March 10
Long Beach, CA March 10-19
Santa Barbara, CA March 20
San Francisco, CA March 24-April 12
Oakland, CA April 12-26
Vallejo, CA April 26-May 2
Astoria, OR May 6-15
Grays Harbor, WA May 16-26
Port Angeles, WA May 27-31
Seattle, WA May 31-June 15
City, State Date
Tacoma, WA June 15-22
Olympia, WA June 22-July 1
Bremerton, WA July 1-7
Everett, WA July 7-14
Bellingham, WA July 14-20
Anacortes, WA July 20-26
Port Townsend, WA July 26-30
Astoria, OR July 31-Aug 2
(no visitors)
Portland, OR Aug 2-22
Kalama, WA Aug 22-24
Longview, WA Aug 24-28
San Francisco, CA Aug 31-Sept 15
Oakland, CA Sept 15-29
Santa Cruz, CA Sept 29-30
Monterey, CA Sept 30-Oct 1
Santa Barbara, CA Oct 3-4
Ventura, CA Oct 4-5
Santa Monica, CA Oct 5
Long Beach, CA Oct 6-19
San Pedro, CA Oct 19-Nov 2
Avalon, Catalina Is. Nov 2
San Diego, CA Nov 3-Mar 20, 1934

1934
Balboa, Panama April 2-7 Canal Zone
Cristobal, Panama April 7-8
Canal Zone (no visitors)
St. Petersburg, FL April 14-23
Charleston, SC April 27-May 3
Boston, MA May 7, 1934

Constitution logged 22,005 miles during
her national cruise, visiting ports of
21 states, the District of Columbia, Cuba
and Panama.